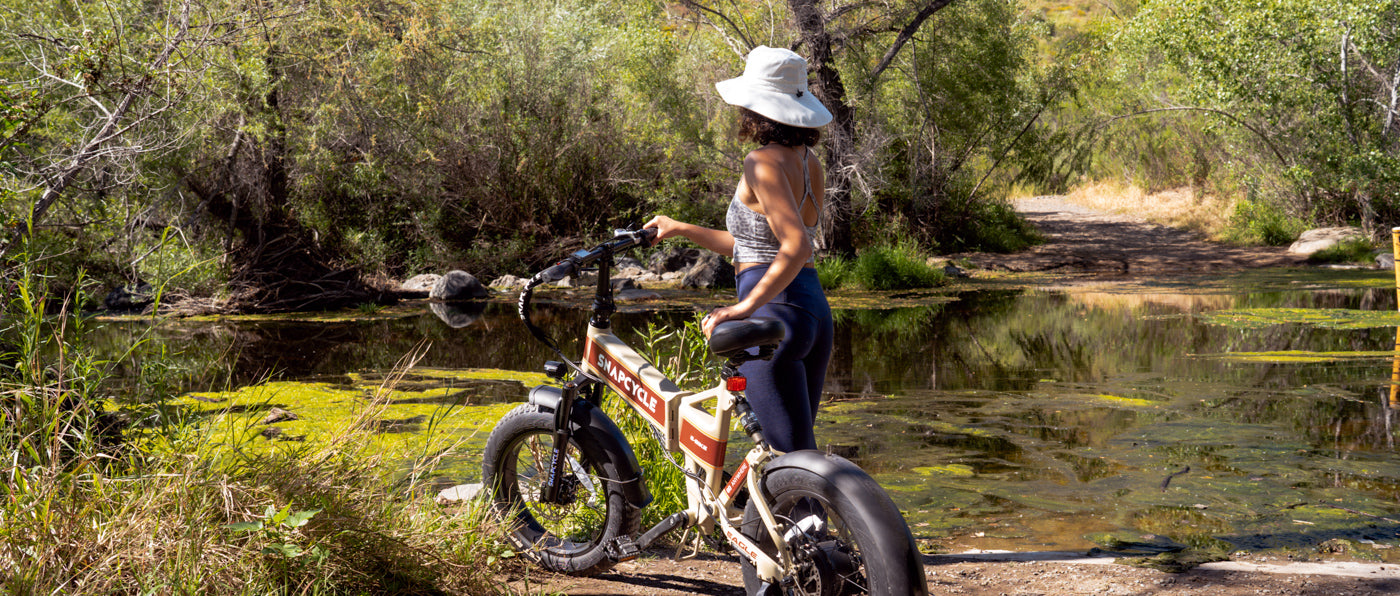 Discover Florida's Cycling Paradise with Snapcycle Ebikes
Florida, the Sunshine State, is a true haven for cyclists. With a growing network of paved bicycle routes that crisscross the state, riders can enjoy hundreds of miles of scenic riding. Whether you prefer exploring rural areas, touring through public lands, or seeking adrenaline-pumping adventures on single-track trails designed for fat-tire enthusiasts, Florida has it all.
As the tenth-most bike-friendly state in the USA, Florida boasts 27 of the most picturesque biking trails and is home to 7 bicycle-friendly institutions that support and promote cycling culture.
Top 8 Florida Bike Trails
Florida proudly claims some of the nation's top bike trails, making it a cyclist's paradise with excellent biking weather year-round, breathtaking scenic views, and mostly flat terrain. Here are the top Florida bike trails, each offering a unique and unforgettable experience:
1. Trail Van Fleet
Embark on a journey across rural Florida to escape the hustle and bustle of the city. The General James A. Van Fleet State Trail, stretching 29.2 miles along State Highway 50 from Polk City to Mabel, is one of Florida's most remote paved paths. This former railroad route treats cyclists to a mostly level and straight road, immersing them in picturesque wetlands and the state's renowned wildlife. The trail meanders through the Green Swamp Wilderness Preserve, leading you through diverse environments, including river swamps, bottomland forests, pine flatwoods, and cattle ranches.
2. The West Orange Trail
Only 20 minutes from Orlando, the 22-mile West Orange Trail is a popular rail-trail in the Sunshine State. It offers a smooth and well-marked route, perfect for training or leisurely rides. Passing through agricultural and residential areas, the trail leads to the Oakland Nature Preserve, where cyclists can enjoy stunning views of Lake Apopka. For those seeking a longer ride, continue for another 9.5 kilometers from Killarney Station, and you'll encounter the South Lake Trail, offering picturesque vistas of Lake Minneola, appealing to training riders as well.
3. Florida Keys Overseas Heritage Trail
Spanning over 90 miles from Key Largo to Key West, the Florida Keys Overseas Heritage Trail runs parallel to U.S. Highway 1, offering cyclists an enjoyable and scenic way to explore the Florida Keys. Though mostly flat with minimal elevation gain, the trail treats riders to incredible wildlife sightings and stunning views. Crossing 23 iconic Flagler Railroad bridges, the trail allows cyclists to fully immerse themselves in the beauty of the region's diverse wildlife without the presence of cars.
4. Blackwater Heritage State Trail
Covering 9.6 miles, the paved Blackwater Heritage State Trail in West Florida follows the path of a former railroad. Starting from the visitor center in Milton, riders can enjoy a pleasant journey through flat rural and urban regions, with ample parking, restrooms, and even a playground for kids. The trail showcases the beautiful Florida countryside, making it suitable for both new cyclists and seasoned riders. Pedal over wooden bridges that span peaceful creeks and appreciate the wildflower-filled natural setting along the way until you reach the gates of Naval Air Station Whiting Field.
5. Courtney Campbell Trail
Connecting Clearwater and Tampa, the 9.5-mile Courtney Campbell Trail offers breathtaking panoramic views of Upper Tampa Bay. Running parallel to the Courtney Campbell Causeway, the trail ensures a safe and enjoyable ride with broad barriers and bridges separating cyclists from the road. Be awed by the scenic views while crossing two bridges, including a 45-foot-high bridge midway through the journey. The Courtney Campbell Trail is a well-known favorite among cyclists in Florida.
6. East Central Regional Rail Trail
The 52-mile East Central Regional Rail Trail is a popular choice for commuter cyclists and recreational riders alike. Its urban and distant rural landscapes appeal to many bikers in Florida, and the numerous straightaways may attract road bikers. Cyclists can enjoy a tranquil and picturesque experience as they encounter the region's amazing local fauna. The trail offers a moderately challenging ride, catering to both leisurely, recreational cyclists and those seeking long-distance and higher-speed rides.
7. Baldwin-Jacksonville Rail Trail
Located west of Jacksonville's downtown, the Jacksonville-Baldwin Rail-Trail spans 14.5 miles through some of northeast Florida's most picturesque landscapes. The rail-trail takes riders to the quaint village of Baldwin, providing a refuge for various bird species and other wildlife in its shady passage. Along the trail, cyclists can explore the surroundings, learn about local history, and take a stroll along nature paths and boardwalks.
8. Fred Marquis Pinellas Trail
Covering approximately 50 miles, the Fred Marquis Pinellas Trail offers an exploration of Florida's western shore, showcasing Gulf Coast views and a delightful blend of metropolitan shoreline and charming downtowns. Cyclists can take a detour to the nearby Honeymoon Island State Park for a relaxing swim and a stroll through the pine Flatwoods. Additionally, this Hall of Fame rail-trail contributes to two exciting trail systems: the Coast-to-Coast Connector Trail, a 250-mile route across the state, and a 75-mile loop connecting Pinellas County.
Final Verdict
Despite being one of the flattest states in the country, Florida boasts a plethora of fantastic cycling routes suitable for everyone. Whether you're on a family vacation, a beginner exploring your cycling options, or an experienced cyclist gearing up for your next competition, Florida has something special in store for you. The top eight cycling destinations in Florida promise unforgettable experiences for all.
Beyond the thrilling biking opportunities, Florida's name alone conjures images of lush natural areas teeming with wildlife, sandy beaches, and vibrant cities brimming with attractions. Thanks to its extensive network of paths, including approximately 60 rail-trails, travelers can easily access a wide variety of stunning landscapes and distinctive villages throughout the Sunshine State. Moreover,
the predominantly flat terrain makes these top routes accessible and enjoyable for almost everyone.
Things You Should Know before Riding an Ebike in Florida
If you plan to explore Florida on an ebike, here are some essential things to keep in mind:
1. Definition of an E-bike in Florida:
An e-bike in Florida is defined as a bicycle equipped with a motor not exceeding 750 watts, with a maximum speed of 20 mph on level ground, and designed to be operated with pedals.
2. Legal Age for Riding an E-bike in Florida:
There is no minimum age requirement for riding an e-bike in Florida.
3. License and Registration for E-bikes in Florida:
E-bikes do not require a license or registration to operate.
4. Helmet Regulations for E-bikes in Florida:
Anyone under the age of 16 must wear a helmet while riding an e-bike in Florida.
5. Speed Limit for E-bikes in Florida:
The maximum speed for e-bikes on level ground is 20 miles per hour.
6. E-bikes on Bike Lanes, Paths, and Trails in Florida:
E-bikes are allowed to use bike lanes, paths, and trails in the same way as traditional bicycles.
7. E-bikes and Motorized Vehicle Laws in Florida:
E-bikes are not considered motorized vehicles and are not subject to the same laws as cars and motorcycles.
Explore Florida on Snapcycle Ebikes and embrace the beauty, adventure, and freedom that this cycling paradise has to offer. Remember to adhere to the rules and regulations to ensure a safe and enjoyable riding experience.
Source: http://www.leg.state.fl.us/Statutes/index.cfm?App_mode=Display_Statute&URL=0300-0399/0316/Sections/0316.003.html
If you are interested to explore more about Snapcycle ebikes, please visit us here: