Ride the Future with Snapcycle Electric Bike

"I'd recommend giving Snapcycle a serious look. They're offering a lot more bikes for a lot less money than their competitors. More importantly, they're not cutting any corners to get there."

"Snapcycle is a success story in the tough competition among ebike manufacturers and customers can look forward to enjoying its great design at a fabulous price"

"lauded the Snapcycle's design, as well as the rare inclusion of a thermal protection system, that should prolong the bike's battery life"
Find the Perfect Electric Bike for You
Step-Thru Eletric Bike
Effortless Mounting and Dismounting: Step-thru eBikes offer easy accessibility, making it a breeze for riders of all ages and physical abilities to hop on and off with grace and ease.
shop now
Foldable Eletric Bike
Space-Saving Convenience: Foldable electric bikes can be easily compacted for storage or transport, perfect for urban commuters and travelers who value space efficiency and portability.
SHOP NOW
City Commuter Eletric Bike
Efficient Urban Mobility: City commuter electric bikes provide a swift and eco-friendly way to navigate through urban traffic, saving time and reducing your carbon footprint.
SHOP NOW
our story
More Than Just E-Bikes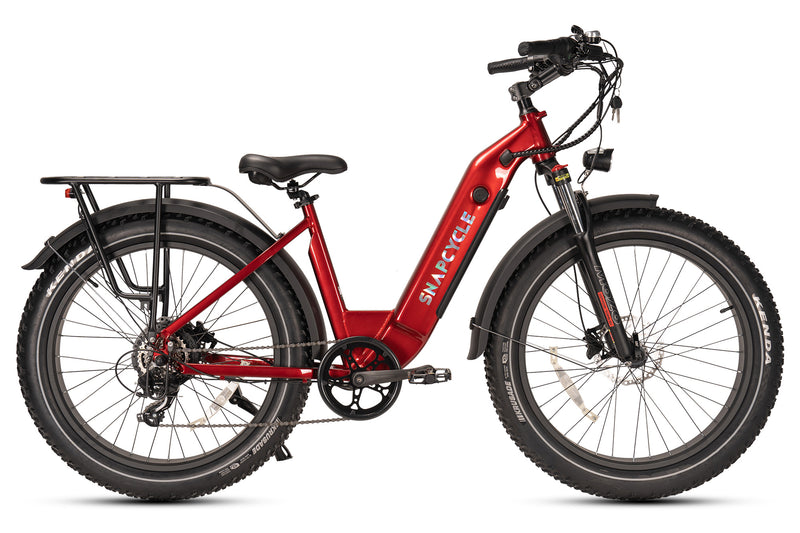 our story
More Than Just E-Bikes
Established in California, Snapcycle was founded by a team of young and fun-loving e-bike enthusiasts. We incorporate the latest technology into our ebikes, offer great functionality to our customers, and most importantly, keep our ebikes at an accessible price point for everyone. We believe our ebikes have an amazing price-performance ratio in the market. We hope you'll love them just as much as we do!
Free Shipping

2-Year Warranty

14-Day Returns

Payment Secure
Transforming Your Daily Routines with Snapcycle E-Bike
Customer Reviews
Worth every penny

Got myself a Snapcycle R1. It's a powerful bike, and looks so good that people keep stopping me to ask what I'm riding and where I got it from. Love it, and will be recommending it to my friends.

Angela P.
Amazing bikes & customer support

So the specs are one thing, it's such a powerful bike and revs up so quickly. What I really loved was how quickly the customer service team responded. Needed advice on a few things and they were really patient, not to mention fast with follow up emails. It's rare to see that nowadays, good job guys.

Chris Howard
got a bike due to FOMO, dont even regret it

so... folks in my area have been zipping around on these bikes and i knew i had to get one cuz the bikes just looked so cool. at first i thought it was just another one of those dumb trends but i discovered that the bike is just so good for running errands that i cant imagine walking to the store anymore. one of those rare fomo purchases i don't regret, thumbs up.

James s.
I am pleased with my purchase

I have taken up wildlife photography as a hobby and often need to travel to out of reach areas for that purpose. I LOVE using the s1 to travel, I have a bad leg but the s1 is so easy to use and nowhere near as tiring as a regular bicycle, I am so pleased with the bike and it has really helped me to get out of the house more instead of sitting around all day, for all you couch potato folks out there, TRY IT!! YOU WILL BE AMAZED and you will find any excuse to get out of the house to use your Snapcycle ebike

Rebecca
Good for rugged terrain

100 miles in my first week with the R1. Seriously impressed with the performance and ease of use. Setup was soooo simple with the instructional video. Took about half an hour and I was on the road. I have not enjoyed the wind in my face for a long time. Felt so safe and stable even when riding on bumpy terrain. All in all, I could not be happier with this new bike. I'm getting great exercise (you DO have to pedal, by the way) and enjoying new sights and sounds everyday.

Brandon L.
Free Shipping

2-Year Warranty

Payment Secure

14-Day Returns