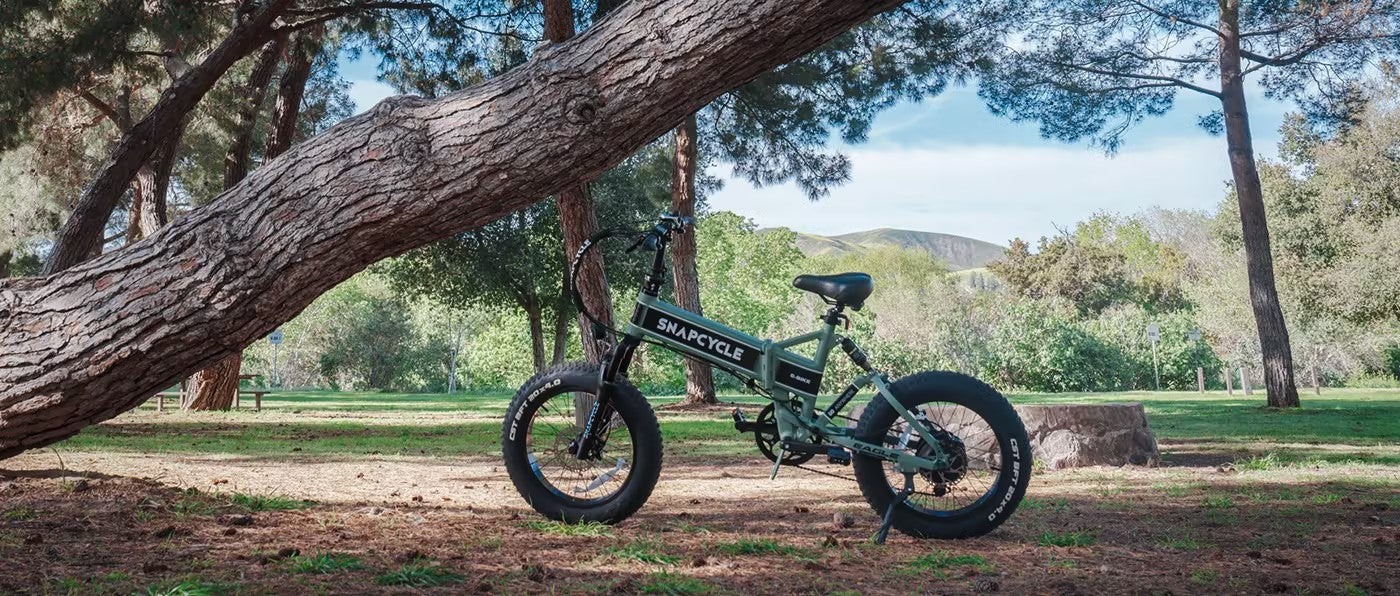 What's A Folding EBike Good For Anyway? My Summer with Snapcycle Eagle
As the world embraces sustainable transportation alternatives, the popularity of electric bikes continues to soar. Among the various types of eBikes available, folding eBikes have gained significant attention due to their versatility and convenience. In this article, we will explore the benefits and experiences of owning a folding EBike, specifically the Snapcycle Eagle, and how it transformed my summer adventures.


Compact Design
One of the most enjoyable aspects of the Snapcycle Eagle is its folding design. With a lightweight 6061 aluminum foldable frame, I effortlessly folded the eBike in three easy steps, making it compact and easy to transport. This feature opened up a world of possibilities for me, as I could take my Snapcycle Eagle on weekend getaways, exploring new trails and scenic routes. The foldable stem allowed me to quickly fold down the handlebars, further enhancing portability and storage convenience.

Commute & Urban Exploration
One of the primary advantages of a folding eBike is its suitability for urban environments. With the Eagle, I was able to seamlessly integrate it into my daily commute. The 750W brushless geared hub electric motor assistance provided a smooth and comfortable ride, effortlessly conquering hills and long distances. Furthermore, when I reached my destination, I could quickly fold the eBike and bring it indoors, eliminating concerns about theft or finding parking space.

Efficient Braking System
Safety is paramount, and the Snapcycle Eagle's sensitive dual-piston hydraulic braking system provided me with peace of mind. With metal-ceramic brake pads and 160mm front and rear disc rotors, the braking system delivered smooth and effective stopping power, even in challenging conditions. I confidently navigated steep descents and maintained full control over my speed, ensuring a safe and enjoyable ride.


Adventure and Exploration
Beyond urban commutes, the Eagle proved to be an exceptional companion for outdoor adventures. Whether exploring nature trails, camping sites, or coastal routes, the folding eBike allowed me to go further and experience more. The bike's sturdy frame and reliable motor provided the necessary power and stability, while the foldable feature made it easy to transport in the back of my car for longer trips. The CST BFT 4" fat tires offered excellent grip and traction on various terrains, be it muddy trails, sandy beaches, or snowy landscapes.

Multi-Modal Transportation
Another significant advantage of a folding eBike is its compatibility with other modes of transportation. I found it incredibly convenient to combine the Eagle with public transportation. When faced with a long commute involving buses, trains, or subways, I would simply fold the eBike and carry it on board. This saved time and money, as well as reducing my carbon footprint by minimizing reliance on cars.

Health and Fitness
Contrary to popular belief, folding eBikes can still provide an excellent opportunity for exercise. With the option to adjust the level of electric motor assistance, riders can choose to engage in a fully manual cycling experience or opt for partial assistance when needed. I found that the Snapcycle Eagle's pedal-assist mode allowed me to maintain an active lifestyle while still enjoying the benefits of an electric motor when facing challenging terrains or longer rides. The backlit LCD display provided real-time information about my ride, including mileage, battery level, speed, and pedal assist level. This intuitive display kept me informed and allowed me to adjust my riding experience to suit my preferences.

My summer with the Snapcycle Eagle folding eBike was filled with exhilarating adventures and unforgettable experiences. From conquering rugged terrains to embarking on long-distance journeys, this eBike proved to be the perfect companion. Its powerful motor, long-lasting battery, efficient braking system, and convenient folding design transformed my summer rides into thrilling escapades. With advanced features ensuring comfort and control, the Snapcycle Eagle took my cycling adventures to new heights. Embrace the joy of riding and embark on your own unforgettable journeys with the Snapcycle Eagle – the perfect blend of style, power, and performance. Get your own Eagle now.
To find more Snapcycle ebikes, please visit us here: 
https://snapcycle.com/collections/electric-bikes