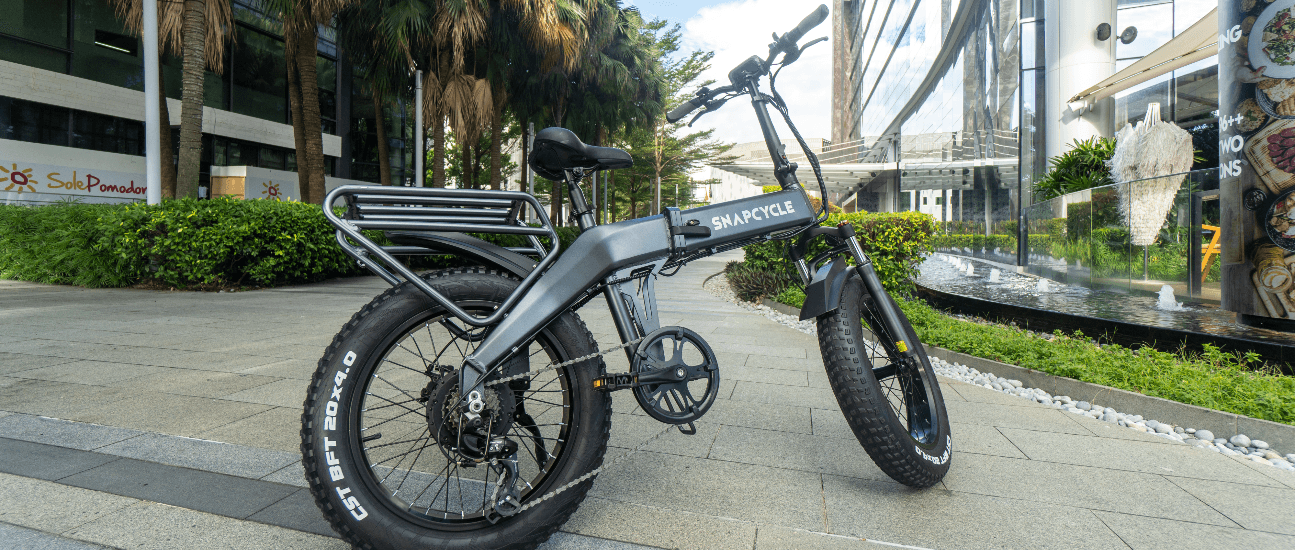 Snapcycle S1 vs Aventon Sinch: Folding Fat Tire Ebike Comparison
A relatively new entrant to the folding fat tire ebike market, the Snapcycle S1 was designed with comfort and safety at the forefront of our considerations, while remaining a convenient option for those who'd like to fold it up and take it with them on the go. More importantly, we know how tough the pandemic has been on everyone, and we'd like to bring some joy to people's lives while keeping our prices fair and accessible.
This article will show how the S1 stacks up against a similar model- the Aventon Sinch, another 20" fat tire folding ebike from household name Aventon. We hope this will help you make a more informed decision about which bike will better suit your needs- though similar, there are a few key differences in the specifications of these bikes that we'd like to highlight below.
Electrical Specifications
We'll start by taking a closer look at the electrical specifications of both bikes:
BATTERY CAPACITY
The S1 and the Sinch have identical battery capacities.
BATTERY CELLS
The battery is one of the most important components of an ebike. Snapcycle places great emphasis on the quality and durability of its batteries. S1 batteries are made of Samsung 35E cells, whereas Aventon does not specify the brand of the battery cells used for the Sinch model on their product webpage (information is accurate at the time of writing).
MOTOR
The motor is the heart of an ebike, much like the engine of a car-  it'll power the rider through all sorts of terrain. The Aventon Sinch uses a 500W brushless geared hub motor, whereas the Snapcycle S1 uses a larger 750W motor, which provides more power to help the rider through muddy grounds and steep slopes. The caveat, of course, is that a bigger motor consumes more electricity, and the range of the S1 would therefore be shorter than that of the Sinch.
CHARGER
Both the S1 and Sinch utilize 48V 3A fast chargers. Most ebikes on the market right now come with 2A chargers, so this is great news for those who want to spend more time on the road, and less time sitting around waiting for their battery to get juiced up. 
A 3A charger is capable of fully charging a 14Ah battery within 4-5 hours, while a 2A charger can take up to 8 hours to achieve the same.
THROTTLE
The Sinch comes with a thumb throttle feature, which is more convenient to operate. They're also small and don't take up too much space on your handlebar. However, modulation may be difficult as you'll only have a singular thumb on the throttle- going across rocky terrain may cause your finger to slip every now and then. If you're in colder areas, that lone thumb sticking out may freeze up a lot quicker than the rest of your digits, so that's something you may want to take into consideration.
On the other hand, the S1 utilizes a half-twist throttle, which helps to prevent accidental activation and are a fantastic option for those who worry about wrist fatigue. Modulation is not an issue since the half-twist can be held as though you're gripping the handlebars in a stationary position. However, there may be a very slim chance that someone walks up to you while you're parked aside to rest, and twisting your throttle out of curiosity. This happens less often with a thumb throttle since it's less intuitive.
Both types of throttles have their pros and cons, figuring out what works for you is most important.
HEADLIGHT
The S1 comes with built-in headlight, while a headlight is available as an add-on for the Sinch.
That about summarizes the differences in electrical components between the two models- as you can see, they're pretty similar specs-wise. The powerful motor of the S1 results in the bike trading off some of its range.
Mechanical Specifications
Now let's move on to comparing the mechanical components of the bikes:
FREEWHEEL
Both bikes offer 7 speed freewheels, which will allow the rider to change gears as needed for their comfort.
SUSPENSION
Both bikes offer front suspension. The suspension fork on the Sinch has a longer travel, which is best for descending rough terrain at high speeds, as it provides the rider with greater control over the bike during descents.
The S1's suspension fork has a shorter travel, which provides an all-around balanced riding experience, making for smooth trails and easier uphill rides.
BRAKES
Both bikes utilize mechanical disc brakes, with a 180mm rotor. Pretty standard for ebikes.
TIRES
Both bikes utilize 20" x 4" fat tires, which offer excellent stability and traction to riders. 
REAR RACK & FENDERS
The S1 comes with a rear rack and fenders in its kit, while racks and fenders are available as add-ons for the Sinch.
DIMENSIONS
Whether folded or unfolded, the Sinch is ever so slightly larger than the S1, but the difference is barely perceptible. We're inclined to say that the 1-2cm discrepancy barely makes a difference, but it might for someone who just needs that extra bit of space.
Price
Finally, and perhaps most importantly for some, let's compare the price points of these two bikes:
PRICE
Snapcycle S1: $1499
Aventon Sinch: $1699
As we've explored above, both bikes have their advantages and disadvantages, and their differences allow them to cater to different preferences. As the new entrant to the market though, the S1 definitely gives its users better value for money, and we're confident that it'll hold its ground against the Sinch for some time to come.
We hope you've found our little comparison article to be helpful!