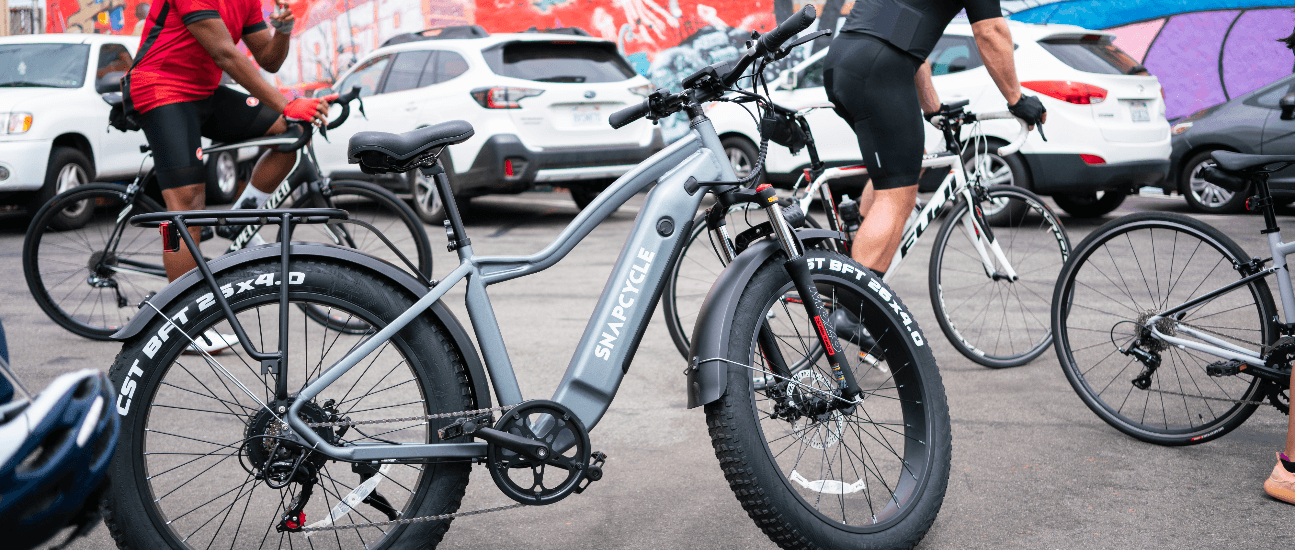 Top Ebike Accessories This Summer
Ebikes are customizable with all sorts of accessories that help make your rides fun and convenient. Whether you're exploring local bike trails or making a stop at your favorite haunts, there's an accessory for everyone in this article. For those that haven't cycled in a while, or are completely new to the sport, just know that having the right accessories can completely transform your riding experience.
While a helmet is non-negotiable thanks to state laws, other accessories are largely optional. Below are some of the best e-bike accessories you should consider adding to your arsenal this summer.
Helmets
As mentioned earlier, a helmet is essential when you go riding. It doesn't guarantee your safety, but it'll certainly work to mitigate serious injury to your head in the event of any accidents.
When buying helmets, make sure they are ventilated, have good style and aerodynamics, and meet the required safety standards.
You can get a good road helmet, commuter helmet, or even a cross country helmet. Some helmets even have lights and night-vision cameras attached to them for added visibility at night.
Bike Pump
Unless you intend to drag your bike to the local bike shop every time you get a flat tire, get a floor pump for home use. Look for one that can fit different valve types and has an easy-to-read gauge.
Also, look for pumps that you can secure with your feet while pumping, to make the process a little easier.
Bike Lock
You would be surprised at how easy it is to steal bikes these days, as most bike thieves carry power tools on the go.
If you want to know just how easy it is to saw through a bicycle lock, search up some bike theft demonstration videos on YouTube. You'll definitely think twice about using chain locks after that.
We suggest for you to get a double-bolted, reinforced steel U-lock for maximum protection. We think Skunklock is a good option, but some people may prefer to install GPS trackers or alarms on their bikes, or even use digital locks connected to their phones, which are fair game too. Whatever you decide to use, just remember that ebikes are a hefty investment, bike thieves are always on the prowl, and you'll want to use a proportionate amount of effort to secure your property.
Water Bottle Cage
Water bottles are a biking essential. Most bikes include frame mounts but do not include the bottle holder itself.
You'll want to get a bottle cage that is light but sturdy so that your bottle won't go flying when you hit a pothole. Some riders match their bottle cages to the rest of the bike's aesthetic, giving their bikes a seamless look.
Tire Repair Kit
Punctured tires can turn your joyride into a nightmare in a few seconds flat (pun intended!). It would help to keep a spare tube, inflator, and CO2 cartridge on standby if possible, especially if you're going on an off-road adventure.
With the help of YouTube tutorials and plenty of practice, you'll be able to fix flat tires on your own in no time. Who knows, you might even get the chance to rescue riders who get stranded on a trail. Buy a portable tire repair kit that will fit snugly under your saddle.
Phone Mount
In today's interconnected world, it's impossible to keep our eyes off our phones sometimes. Lots of cyclists rely on GPS functions to get around. That's why you'll need a phone mount. With a phone mount, you can secure your phone to your handlebars to make it easy for you to follow maps or GPS routes hands-free.
Bike Light
It is a special thrill for riders to ride at night because it is usually very peaceful and quiet. Unfortunately, many people do not follow proper safety precautions when riding at night, so they put themselves at risk of severe road accidents.
If you know that you will be riding at night, you should install powerful lights both on the front and back of your e-bike. Lots of ebikes nowadays come with rear and front lights pre-installed, but you should always double check product specifications just to be absolutely certain.
Rear Rack
This is not an absolute necessity, but most riders love it. A rack increases your bike's utility, making it one of the best accessories for long bike rides. You can strap down a briefcase, a basket, or a crate, so it comes in handy for hauling cargo, making small deliveries and even grocery runs. Some ebike companies include rear racks with their bikes, and some don't- make sure you know what you're paying for, as many brands are known to include rear racks as an optional add-on, at additional cost.
Child Seats
This is a fantastic invention for younger kids that aren't able to ride on their own, but don't want to miss out on the action. Child seats typically clamp securely to the seat post of the bike, and are easily detachable and stored when they're not needed.
Child seats tend to have foot straps, adjustable heights, harnesses, footrests, a built-in reflector, and even a light attachment sometimes. Thule child seats, a popular choice that's pictured above, will fit most kids up to 48 pounds, and are typically recommended for children between the ages of 9 months to 6 years.
Trailer/Tag-Along Bikes
For older kids, a trailer bike is all they need. It is a mini bike that is attached to the frame of the main bike, usually the seat post.
It allows kids to practice pedaling and balancing instead of just being a passenger. It's great for bringing older kids out on a ride.
Make sure you keep your e-bike at a lower gear to avoid going too fast, as the uneven distribution of weight at higher speeds may lead to accidents.
Bike Bell
Signaling your intention to overtake and change lanes is very important. Whether you're on a traffic-heavy city street or a crowded bike path full of pedestrians, bells, while seemingly outdated, are reliable and get the job done. Get a bell that's able to make clear and piercing sounds.
Alternatively, you might also want to consider electronic horns. Some bikes do come with built-in horns, which are great and will save you the trouble of finding the add-on.
Bike Baskets
Baskets are a perennial favorite in the world of bike accessories, and we can see why. When attached to handlebars or stem tubes, they become the most versatile storage spaces, and can hold just about anything, from groceries, to books, and even pets. If you've got a small pet that will fit nicely in a bicycle basket, we highly recommend lining your basket with fleece or some quilted material, and setting up a small heating element underneath to keep your furry friend warm and safe.
There are plenty of overrated, less-than-useful products these days. Before you purchase an accessory, read through some of the reviews it's garnered to see whether it's really all that the seller has made it out to be.
To maximize the utility of your ebike, it's imperative to outfit it with the accessories that best suit your purposes. Bear in mind though that changing the weight distribution of the bike, or replacing any original parts in a bid to improve your bike's aesthetics could result in compromised performance or otherwise damage your bike, so proceed with caution and seek professional opinion for any major changes.